Why Geography Placemats Are Great Learning Tools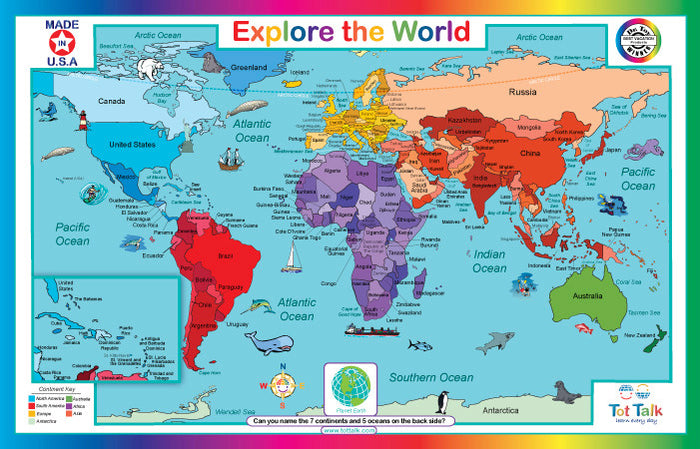 Elevate Your Geography
Maximize family time with Tot Talk's Geography placemats. Discuss vacation plans, your child's new friend's hometown, or challenge each other with a USA capitals quiz—winner gets a dishwashing pass! Keep learning fresh by rotating these placemats often. Perfect for all ages, ensure everyone has one for synchronized learning at mealtime
Explore our Geography collection
Discover the Wilderness
Embrace your love for nature with Tot Talk's vibrant, double-sided placemats. Learn fascinating facts about wildlife and their habitats, whether you're traveling to the beach, jungle, or savanna—or exploring from home. Our placemats teach animal names in English, French, Spanish, and Mandarin. Perfect for all ages, they ignite curiosity and appreciation for the world's wild spaces.
Explore our Animals & Nature collection
Kindergarten Confidence!
Tot Talk's educational placemats provide years of learning for preschoolers and kindergartners. For instance, our ABC Animals placemat helps in different learning stages: Sing the ABCs to your baby while pointing to letters, introduce phonetics around age 2.5-3, and when they recognize letters, they can trace and write them correctly between ages 3-6. Our double-sided placemats offer twice the content and years of educational value. Invest in knowledge and skills that empower your child for kindergarten. Buy now and equip your child with confidence!
Explore our ABCs, Numbers and Shapes collection
Ignite Science Passion!
Tot Talk caters to all budding tech enthusiasts, covering a wide range of scientific topics. Learn about Earth's core, the solar system, paper airplane aerodynamics, seasonal shifts, clock types, human anatomy, rock and mineral identification, and even the periodic table—all on our engaging placemats. If we're missing anything, we'd love to hear your ideas! Let's create a brighter future with more brilliant scientists.
Explore our Science & Health collection
On Your Marks, Athletes!
Give your child a head start in sports with Tot Talk's placemats. Familiarize them with the game rules and positions right at your dining table before their first practice. Our sports-themed mats allow interactive learning, helping your child understand and enjoy the game, boosting their confidence. Equip your future athlete today!
Explore our Sports collection
Dive into the Past!
Transform mealtime into a captivating learning experience with Tot Talk's educational placemats. Discover U.S. Presidents, delve into the Constitution, explore art movements, or travel to outer space—all from your dining table! Every day offers a new adventure to stimulate your child's curiosity and knowledge. Learning has never been more enjoyable!
Explore our History collection