Money & Time Mini Workbook
Regular price

$6.00

Sale price

Unit price

per
There is nothing more intimidating than a giant, 100-paged workbook when learning a new topic.
So don't buy the big ones! Buy ...



Tot Talk's Money & Time Mini Workbook:
A "no-brainer" product for rapidly developing brainy children

24 pages of pure fun learning

to count change

how to write money and related symbols

how to read clocks and learn about telling time
Activity booklets can be completed in full (no pages left undone)

I wish I had these when my kids were these ages

Fun at home or on the go (easy to take anywhere)

Pairs well with both Tot Talk's Let's Count Money and Telling Time placemats
Use, pencil, pen, or sharp-tipped markers

5x7 inches

Made in USA

For Ages 6 - 9
The Money and Time mini-workbook offers an inexpensive but fun way to master counting change, writing money and related symbols, reading clocks and learning how to tell time. This mini-workbook pairs well with Tot Talk's Let's Talk Money placemat and Telling Time placemat. For ages 6 - 9. 5" x 7". Made in USA.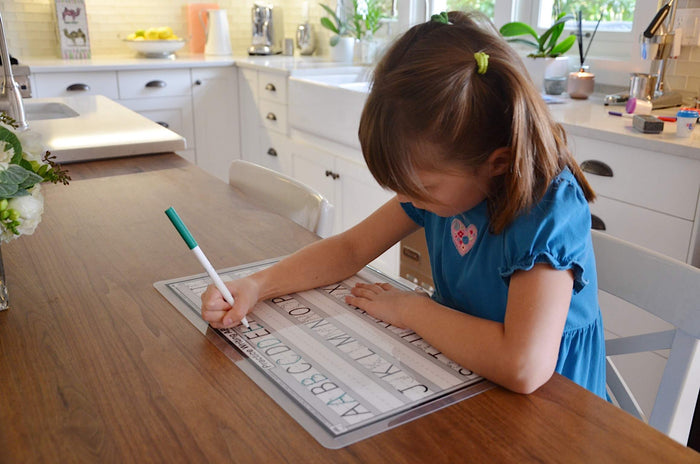 Why Tot Talk?
Extensive educational options for all interests


Double the education compared to other kids' placemats (Tot Talk's are double-sided). 


Placemats, made from highest quality, durable lamination, last years, even after many washes.


Kids can use washable AND dry erase markers on the mats (versatile and easy to clean).


Made in the USA


Safety tested annually by certified, Safety Testing facility in the USA