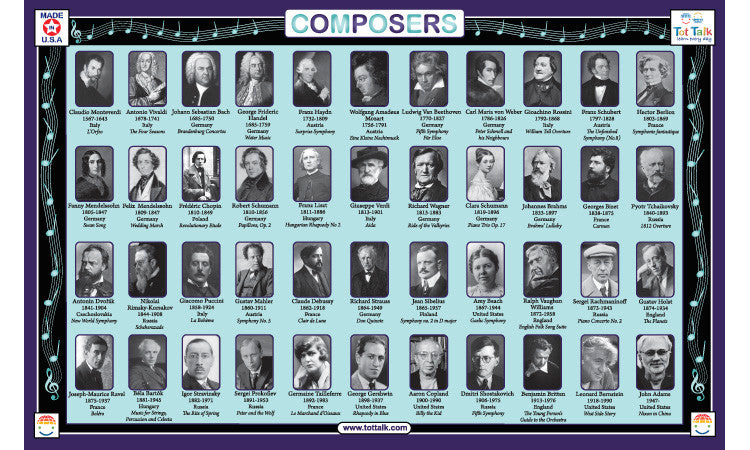 Composers Placemat
Regular price

$7.99

Sale price

Unit price

per
A composer is a person who writes music, especially as a professional occupation. Tot Talk Composers placemat lists famous composers dating all the way back to the 16th century including Vivaldi, Bach, Beethoven, Wagner, and modern day composers like Aaron Copland. Children can explore classical music periods and classical music forms on the back side. Parents can play music of the composer and then show the picture of the composer at the table. Kids can compose their own music with pots and pans or sticks and stones or real instruments. Recommended age: 5 - 100+.

Tot Talk Placemats are:

• MADE IN USA
• Safety-Approved
• Award Winning
• Anti-bacterial - Wash with dish soap; placemats dry quickly
• Used in homes, schools and on the go, traveling or in a restaurant
• Lightweight and durable
• Dimensions: 17.5" x 11.5"

Placemat Cleaning TIPS:
To clean,

• Use WET paper towel with washable markers
• Use DRY paper towel with dry erase markers
• Do not use water on dry erase markers
• Antibacterial dish soap/water may be safely used to disinfect placemats
• Dishwasher not recommended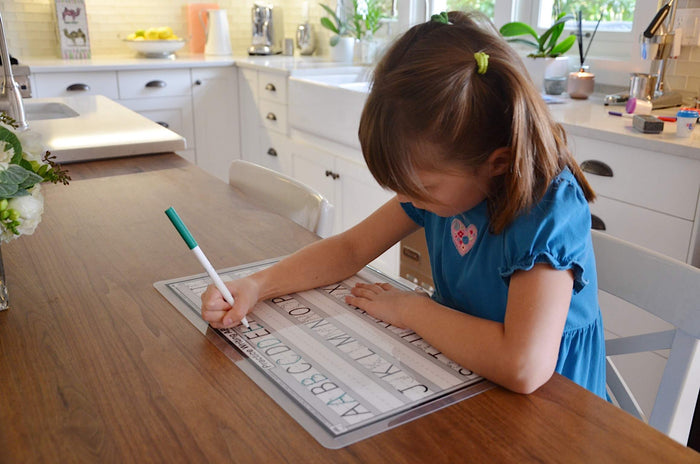 Why Tot Talk?
Extensive educational options for all interests


Double the education compared to other kids' placemats (Tot Talk's are double-sided). 


Placemats, made from highest quality, durable lamination, last years, even after many washes.


Kids can use washable AND dry erase markers on the mats (versatile and easy to clean).


Made in the USA


Safety tested annually by certified, Safety Testing facility in the USA