Australia Educational Placemat
Regular price

$7.99

Sale price

Unit price

per
Do you want to see kangaroos and koala bears and wombats? Let's take a trip to the Outback right from our kitchen table.  Australia is the oldest, flattest, and driest inhabited continent, globally famous for its natural wonders, wide-open spaces, beaches, deserts, "The Bush", and "The Outback".  The continent also has tropical rainforests in the north-east and mountain ranges in the south-east.  
Learn about the continent of Australia with Tot Talk's made in the USA, durable, double-sided, educational placemat.  Explore Australia's states and territories and their capitals, as well as the major bodies of water.  A bonus feature includes the bigger region of Oceania and its 14 countries, including New Zealand, which is not part of Australia's continent.  Test your knowledge on the back side by filling in country names, capitals, and bodies of water in their respective locations.  Adults and kids will learn!

For ages 4-100+ 
Tot Talk Placemats are:

• MADE IN USA
• Safety-Approved
• Award Winning
• Anti-bacterial - Wash with dish soap; placemats dry quickly
• Used in homes, schools and on the go, traveling or in a restaurant
• Lightweight and durable
• Dimensions: 17.5" x 11.5"

Placemat Cleaning TIPS:
To clean,

• Use WET paper towel with washable markers
• Use DRY paper towel with dry erase markers
• Do not use water on dry erase markers
• Antibacterial dish soap/water may be safely used to disinfect placemats
• Dishwasher not recommended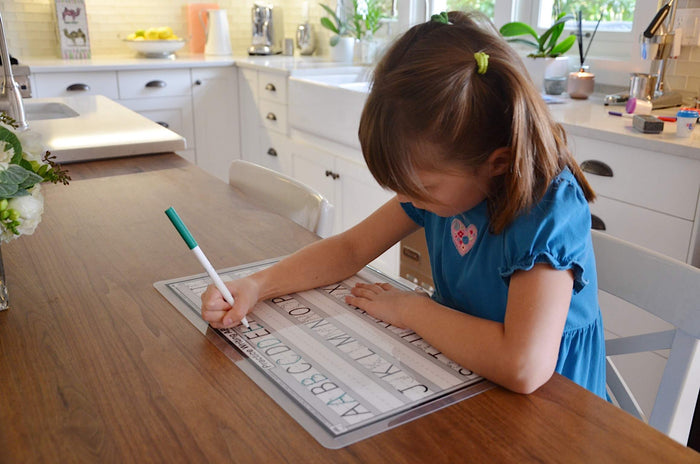 Why Tot Talk?
Extensive educational options for all interests


Double the education compared to other kids' placemats (Tot Talk's are double-sided). 


Placemats, made from highest quality, durable lamination, last years, even after many washes.


Kids can use washable AND dry erase markers on the mats (versatile and easy to clean).


Made in the USA


Safety tested annually by certified, Safety Testing facility in the USA